Fabiola L Nadjar Fiore Art Collections
Shop for artwork from Fabiola L Nadjar Fiore based on themed collections. Each image may be purchased as a canvas print, framed print, metal print, and more! Every purchase comes with a 30-day money-back guarantee.
About Fabiola L Nadjar Fiore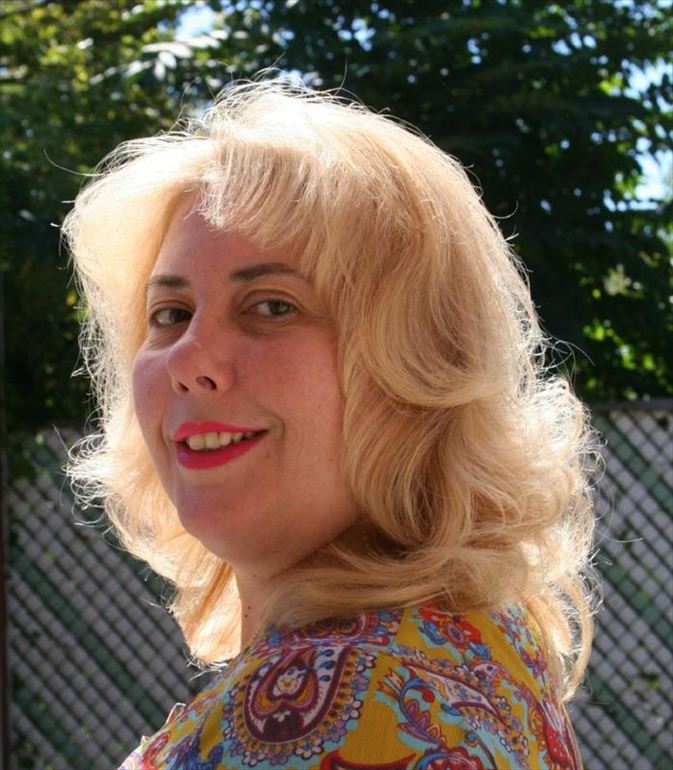 • An artist at heart with hidden talents and finally having a moment in her life to blossom her creativity. Born in New York and mostly raised in France, learned abstract art at a young age in the USA and was then refined with old world classical art history and techniques studying genius masters and their priceless masterpieces in France, as well as, irreplaceable historical monuments and ruins of this world.
Fabiola focused on a Fine Art Program and Photography at Parsons School of Design, NYC.

• Member and Exhibitor of/at the Putnam Arts Council, Southeast/Mahopac, NY; Arts on the Lake, Lake Carmel, NY; Studio E (East), Greenport, Long Island, NY; The Art League, Dix Hills, Long Island, NY and many art and design groups on Facebook.

• Father owned a cabinetry shop in Paris, France. Came to the U.S.A. in 1950 and worked for the Pennsylvania Railroad, Columbia University's School of Architecture, Parsons School of Design and Brooklyn Museum as a professor of woodworking, furniture & cabinet making, and model making.

• Mother did not work in the U.S.A., however, owned a beauty salon in Paris - "Chez Rosette", France and sketched and designed the clients' desired hair cuts and styles prior to sculpting their hair. Also a world rounded and talented make-up artist who favored the facial styles of Cleopatra and Sara Bernard.

• With both parents' in an artistic field and a home that was always decorated as a mini-art gallery, Fabiola made her first model with scraps of wood from her Father's workshop at the age of 4 called: "Hôpital FLN", which was inspired by Columbia University's Campus Hospital – Saint Luke's Hospital and the elevated passageway connecting two of its buildings.

• With this same vivid eye for industrial art and architecture, she used to buy architectural and home modeling magazines in France, examine the blueprints and redesign the layout applying more logic of which rooms were better situated next to one another, while keeping the same outer shape of the home, at the age of 13. She also designed her own home model layouts. During that same time, she also designed a very avant-garde pair of denim jeans with 12 zippers on it (6 around the waist, 1 on each thigh and 2 at each bottom) and had her mother's seamstress – Minnie - a dressmaker for Kimberlee, Manhattan - make it for her.

• At 16, she designed a bracelet with her initials that her father asked one of his student's at Parson's School of Design - a jewelry design major - to make it for her in silver.

• Touched on fashion design again in her 20's and created a selective wardrobe for her mother and herself, buying her own rich velvety & silky fabrics and glamorous "lamé'ed" & embroidered trimmings with finish touches of bright shiny golden buttons & zippers. During that same period, Fabiola and her father made her Louis XV bedroom set in rosewood and gum wood comprising of: full/queen size headboard, armoire, chiffonier, and a transitional night table and desk to accommodate.

• In her 30's she continued designing jewelry for her family, friends and husband in gold and silver with their respective birthstones or unrefined stones. Those pieces were made for her by contacts she made in Manhattan's 47th Street Jewelry District.

• In her 40's, she also designed the blueprint to finish the 1,700 sqft bare cement basement of her newly built home in rural Carmel, NY increasing the mini-mansion's dimension to a 5,100 sqft entertainment home and designed the inground gunite heated swimming pool with spa and waterfall cascade with America's Premier Swimming Pool and Spa Builder "Anthony and Sylvan Pools" to an epic proportion of 54 feet long by 26 feet wide dimension with rounded arabesque shapes throughout, cozy corners, and in-pool/in-spa seating creating a mini resort in the acreage property. These were her two major new home/pool one year construction projects.

• In her 50's, she also renovated her home in Flushing, Queens, NY indoors and out and transformed it into an upgraded modern suburban mini-retreat with Classical and Mediterranean touches just 30 minutes to never sleeping Manhattan. This was her major one year renovation project on the existing 1964 construction her father had built. Fabiola is constantly bubbling with ideas that she can design and always conceptualizes the finished product.

• Fabiola is continuing with her photography and developing new creations with her daughters which will be sold on her main corporate e-commerce website: www.magaliboutique.com , which that too she developed and catalogued herself - back office, images & descriptions of merchandise. Author, composer, and still and 25 year seasoned International Banker, and still a 20 year seasoned importer/exporter/distributor entrepreneur, you name it, she is specialized in it.